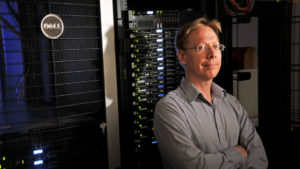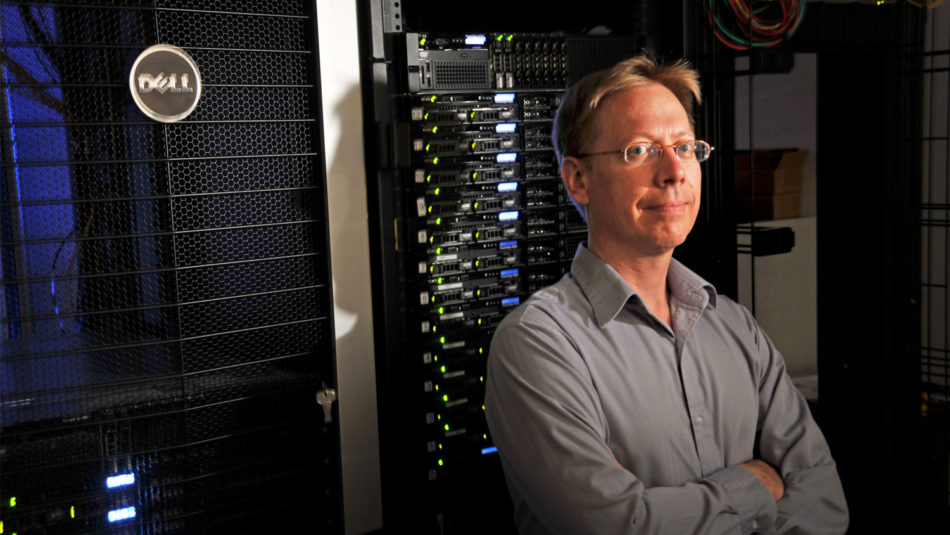 NC State's Chancellor's Faculty Excellence Program showcases the university's commitment to interdisciplinary excellence and field-leading faculty. Cluster faculty turn research into real-world solutions while providing students with well-rounded experiential education opportunities.
We spoke with Fred Wright, a member of the Bioinformatics cluster and director of the Bioinformatics Research Center, about his research and the impact of interdisciplinarity at NC State.
---
What is your role within the Bioinformatics cluster and what are your primary research interests?
I was hired as a member of the Bioinformatics cluster in 2013 — partly because of my research, but also to be the director of the Bioinformatics Research Center. This interdisciplinary research center, established in 2000, brings faculty from different colleges and departments together who have complementary interests in using quantitative reasoning to solve biological problems. We have faculty from departments like biological sciences, statistics and chemistry who represent interdisciplinary work, but physically are in the Ricks Hall third floor facility. The idea is to conduct research, pursue grants and further our work by virtue of being close together physically.
My own work covers a number of areas in statistical genetics. Most of my research concerns gene mapping or genomics and relating those to diseases in humans or model systems such as mice. I collaborate with others to gather what we call "omics data," which could be DNA in mice or humans, or it could be what's known as expression data, which represents the degree to which genes are turned on and turned off, and that can vary by tissue and vary over the lifespan of an individual.
What do you hope to achieve through the research being conducted in the bioinformatics cluster and the Bioinformatics Research Center?
The cluster did a lot to strengthen environmental bioinformatics instantly. Professors David Reif, Denis Fourches and I spend part of our time working on the application of genomics to toxicology, as well as chemical informatics. This is an important emerging research area that combines traditional toxicology with new omics methods. The Triangle area is quite strong in this area, even though there are relatively few people working in this combined field. To have three people in that one cluster automatically made us much stronger as an institution in bioinformatics. In addition to adding to the original strengths of statistical genetics within the center, enhanced environmental work was something the cluster was able to bring to campus. Additionally, the Bioinformatics cluster builds on existing strengths within the Bioinformatics Research Center. Our other cluster member, Dahlia Nielsen, represents strengths in statistical genetics, combining a deep understanding of biology and statistical genetics with the most modern technology.
What is your favorite part of being a researcher?
It is cliche to say that we like the excitement of discovery, but it is true. Just sitting at a computer and suddenly seeing a pattern in data that no one had ever noticed before is something that researchers have to live for, because otherwise, why are you doing that? In my role as director, I get some satisfaction in seeing that we've been able to grow, sometimes in the face of difficult funding situations. Much of this, due to the vision of the chancellor and provost, to have this faculty excellence program, has been one of the ways in which we have been able to grow. Helping to steer that and seeing that we're bringing in excellent people gives me a lot of satisfaction.
How does interdisciplinarity impact both faculty and students?
Research complements training, and traditionally that's been thought of as something most applicable to graduate students. Increasingly we're seeing the involvement of undergraduates in research and it is something that has taken hold on other campuses and is starting to take hold here. I've had some undergraduates training in our group and there are other faculty involved with the center and with the cluster who are actively engaging undergraduate students.That kind of exposure in the early stages of academic development is certainly good for the students. For us it is an extra set of hands and it helps develop a researcher pipeline. There are quite a few students who remain local or they may go off and get a master's degree somewhere else and come back here for a Ph.D. All versions of this are very good for us — for the center, the cluster and the institution. We create the research space so that research can thrive and so that students — no matter their eventual career goals — are able to see what it means to generate knowledge.
What is something people may not know about the Bioinformatics cluster or the Bioinformatics Research Center?
We're very approachable! There are some students who have been trained in biology who may not realize that with a reasonable amount of training — maybe a few months of training in computer languages — they can do something in bioinformatics. There is a startup cost to be able to do interdisciplinary work. You have to understand at least a little bit about multiple disciplines, but it is not necessarily as high a barrier as some people think. We provide formal training opportunities as well as self-taught experiences that can often get people to the point where they understand enough to be able to engage in the process.
Another thing is people don't realize how many jobs there are in this area in particular. Data science is increasingly something that people are focused on. We have a large number of students who have graduated and gone on to very good positions here in the Triangle and across the nation. Bioinformatics is a bigger area that many students realize.
---
To see this article in its original context, click here